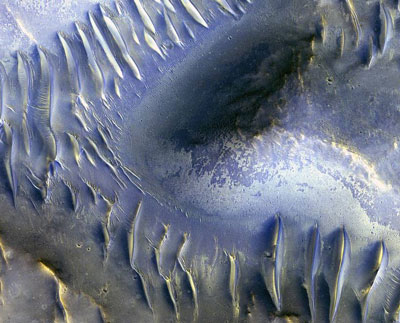 Among the significant team challenges NASA will face on a future mission to Mars, or any future mission out of the Earth's lower orbit, is the need to maintain shared mental models.
Shared mental models
are team members' shared understanding of knowledge regarding the team's environment. On a long-distance mission to Mars, it will be of utmost importance that the crew has a shared understanding with each other, and also that the crew and the mission control team on the ground have a common understanding of the situation. This project seeks to model how shared cognitive architecture evolves within and between teams identifying critical antecedents and consequences that may play a role in long-distance space exploration. The ultimate goal of this project is to develop training or interventions that can be used to identify and remedy situations when shared cognitive architecture is misaligned.
Leslie DeChurch, Northwestern University

Noshir Contractor, Northwestern University

Jeffrey Johnson, University of Florida

Jessica Mesmer-Magnus, University of North Carolina Wilmington
Post-Doctoral Researcher:
Michael Schultz, Northwestern University
Graduate Student Researchers:
Gabriel Plummer, Northwestern University

Ashley Niler, Northwestern University

Michael Zurek, University of Florida

Marlon Twyman, Northwestern University
Johnson, J., Zurek, M., Contractor, N., & DeChurch, L.A.Team dynamics in spaceflight analogs: Shared mental models, informal social roles, and team viability and conflict in the Human Exploration Research Analog (HERA). Paper presented at the Sunbelt International Network for Social Network Analysis Annual Meeting, Beijing, China.
Plummer, G., Larson, L., Mesmer-Magnus, J., Niler, A., DeChurch, L.A., Contractor, N. (2016, July). When team cognition matters most: A meta-analysis. Paper presented atthe annual conference for Interdisciplinary Network for Group Research (INGRoup), Helsinki, Finland.
Twyman, M., DeChurch, L., & Contractor, N. Using a network approach for modeling shared cognition of astronaut teams. NetSci 2017 International School and Conference on Network Science, Indianapolis, Indiana, June 19-23, 2017.
The material is based upon work supported by NASA under award No. NNX15AM26G. Any opinions, findings, and conclusions or recommendations expressed in this material are those of the authors and do not necessarily reflect the views of the National Aeronautics and Space Administration.