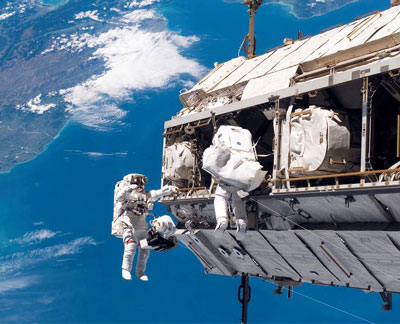 We are at the dawn of a new era of human space exploration. Moving beyond low earth orbit and the relative safety of the International Space Station toward near-Earth asteroids and Mars present previously unimaginable opportunities as well as organizational challenges. One significant challenge is the complexity of the operating environment within which astronauts will work. This complexity will place enormous demands on astronauts, and research is needed that develops concrete countermeasures to mitigate the risks stemming from performance decrements due to inadequate cooperation, coordination, communication, and psychosocial adaptation within a team. Astronauts will push the bounds of human cognitive and social functioning as they multitask across tasks, teams, and tools working toward personal, team, and system goals. This multidisciplinary research project is designed to help them do just that.
This three-year programmatic investigation into team task switching leverages:
 Agent-based models to understand how task switching behavior and performance-related switching costs
Laboratory experiments conducted at Northwestern
Experiments conducted in the Russian NEK, and
A survey study aboard the International Space Station.
Leslie DeChurch, Northwestern University
Noshir Contractor, Northwestern University
Jessica Mesmer-Magnus, University of North Carolina Wilmington
Research Associate
Alina Lungeanu, Northwestern University
Graduate Student Researchers:
Ashley Niler, Northwestern University
Gabriel Plummer, Northwestern University
McDonald, J. D., DeChurch, L. A., Asencio, R., Carter, D. R., Mesmer-Magnus, J. R., & Contractor, N. S. (2015). Team task switching: A conceptual framework for understanding functional work shifts. Proceedings of the International Human Factors and Ergonomics Society, Los Angeles, CA, October, 2015.
McDonald. J. D., DeChurch, L.A., (2016, April). What makes teamwork attractive? A policy  capturing study to identify influential social factors in team task switching. In McDonald, D., Jones, B. R., and Contractor, N. S. (co-chairs), The Many "I"s of a Team: Person Centric Perspectives on Teams. Symposium conducted at the 31st Annual Conference of the Society of Industrial and Organizational Psychology, Anaheim, CA.
The material is based upon work supported by NASA under award No. NNX15AK73G. Any opinions, findings, and conclusions or recommendations expressed in this material are those of the authors and do not necessarily reflect the views of the National Aeronautics and Space Administration.